Our panel of Sinophone sci-fi enthusiasts in Nordic universities has been accepted for this year's Nordic Association for China Studies (NACS) conference in Gothenburg, Sweden June 8-9, 2023. Yippee!
Landscapes Beyond: Crossing Boundaries in Sinophone SF
This panel examines at how contemporary science fiction stories construct landscapes beyond the real and in doing so cross a variety of boundaries within and beyond the text.
Born out of the creative translation of English and Japanese stories at the turn of the 20th century, Chinese SF has from its inception been a genre between -sometimes published as science writing and sometimes as literary fiction.[1] SF stories have historically been and continue to be, adapted from one medium to another – from novels to lianhuanhua and from online short stories to TV dramas[2] – and the stories themselves habitually explore the boundaries of human perception and knowledge. In short, Chinese SF stories inhabit the spaces between and across categories in terms of content and form, language, and story.
Bringing together a handful of Nordic scholars devoted to studying speculative fiction, this panel approaches boundary-crossing in SF from a variety of different positions including generic hybridity, translation, posthuman perception, and transmediality. By looking at texts that cross from one genre or medium to another, are translated from one language to another, or whose perspective shift from human to machine, this panel exhibit contemporary SF's ability to challenge and expand our understanding of the landscapes of real on every level.
From thousand-mile lenses to super VR invincible infrared X-ray glasses: A century of machine vision in Chinese science fiction
Technologies of vision – particularly optical augmentations of the human eye and automated sensing machines – are one of the most common ways in which the future of digital technologies and artificial intelligence is represented in Chinese science fiction. For example, in the 2017 animation movie Have a Nice Day by Chinese director Liu Jian, for instance, a suburban scoundrel named Yellow Eye roams around the city wearing his "super VR invincible infrared X-ray glasses", a pair of DIY spectacles that allow him to peer inside other people's belongings as well as under women's clothes. After a series of misfortunes, Yellow Eye's pursuit of a bag full of banknotes leads him to his demise: ironically, he gets electrocuted while smashing a traffic surveillance camera for fear of having been caught in its augmented field of view. While the centrality of machine vision in sci-fi is not unique to China, it clearly resonates with historical experiences of surveillance and a long genealogy of speculation about the national development of optical technologies. Drawing on a wide sample of Chinese science-fictional narratives from different historical moments, this presentation analyzes the shifting metaphors through which the future of optical technologies and automated vision has been imagined by Chinese sci-fi authors over a century of cultural production.
Gabriele de Seta
Postdoctoral Fellow, Department of Linguistic, Literary and Aesthetic Studies, University of Bergen


"For Every Lonely Childhood, There is a Doraemon": Alienation, Generic Hybridity and the Vindication of Optimism in A Que's "Farewell, Doraemon"
In the face of seemingly insurmountable personal difficulties and systemic injustices, is it still possible to believe in a better future? In the 2016 science fiction novella "Farewell, Doraemon" (再见哆啦A梦) by A Que (阿缺, b. 1990), this question is examined through the story of an alienated young man grappling with the harsh social realities of rural China, which are exemplified by the tragic life of his childhood friend and contrasted with the cheerful world of the animation series Doraemon. While the adventures of the series' time-traveling robot at first seem far removed from the protagonist and his friend's own circumstances, as the story unfolds the protagonist eventually assumes the mantle of Doraemon and takes action to help change their fates.
Drawing from Cara Healey's conception of "generic hybridity" between Western SF and Chinese critical realism as a key characteristic of contemporary Chinese science fiction, I will examine how "Farewell, Doraemon" uses the critical realist tropes of the educated narrator returning to his hometown and the long-suffering female character to highlight contemporary social issues in rural China. Moreover, I will illustrate how the novella diverges from realist conventions by including a time travel element, allowing the story to explore the possibility of alternative endings to established narratives. I will also argue that in doing so, "Farewell, Doraemon" challenges fatalistic attitudes towards the suffering of marginalized people and foregrounds the importance of imagination and kindness in creating positive change in our communities.
Eero Antero Suoranta
Doctoral Candidate, Doctoral Programme in Philosophy, Arts, and Society, University of Helsinki
Chuanyue – Time Travel Tropes: From Chinese Web Literature to Tv or Web Adaptations
This study seeks to investigate themes of historical romance, gender expression, and social mobility in tv and web-serial adaptations of three time-travel (chuanyue 穿越) web novels: Bubu Jingxin 步步惊心 by Tong Hua (2005), The Promotion Record of a Crown Princess 太子妃升职记 by Xian Cheng (2010), and Qing Yu Nian 庆余年 by Mao Ni (2007). Each theme correlates with the main characters' experiences of certain lacks and failures of modern Chinese society as the protagonists travel back in time to pursue possibilities for seeking romance with multiple choices of partners, for challenging societal gender roles and, lastly, for achieving vertical social mobility by being reborn into a powerful family or gaining special abilities and advancing in an alternative society.
Translating motifs of time-travel from web novels to either tv-series or web-series (where one is aired on television while the other is aired online), requires some level of rewriting to pass censorship (guoshen 过审), especially after the 2012 restriction ban on subgenres such as palace dramas and time-travel dramas. The adaptations chosen for this study, produced before and after the 2012 restriction ban, are interesting examples of how time-travel translates from one medium to another, how adaptation can expand the story world and, in particular, how these expansions and limitations affects and enhance themes of historical romance, gender expression, and social mobility.
Ying Chen
Teaching Assistant / MA stud., Department of Cross-Cultural and Regional Studies, University of Copenhagen
Productive Ambivalences as World-building in the Work of Liu Cixin
Literary works of science fiction often revolve around investigating the estranging effects of radical technological developments upon individuals and societies; that at least is Suvin's seminal claim which has produced much enlightening scholarship. This paper takes a related yet still markedly different route by examining the ways in which the Chinese science fiction author Liu Cixin's world-building occurs through the working out of a limited number of productive ambivalences: These include the injunction to remember against the desire to forget; the delights of ocular examination against the paralyzing effects of surveillance; and the longing for sincerity against the fear of betrayal. The paper claims that Liu Cixin's famous Three-Body trilogy can be considered a world created by transposing these social anxieties, characteristic of contemporary China, onto both plot elements and specific imaginary technologies present in the work. This close reading enables us to gain a clearer grasp of the "generative motor" in Liu Cixin's works. This reading also illuminates some of the genuine literary strengths of Liu Cixin's oeuvre, which have so far been underappreciated due to Liu's somewhat stereotypical representation of (particularly female) characters and his manifest disinterest in serving up ethical or narrative dilemmas for the readers to grapple with.
Bo Ærenlund Sørensen
Tenure Track Adjunkt, Department of Cross-Cultural and Regional Studies, University of Copenhagen
Soft Translation: Fluidities of Gender, Language, and Sea in Chi Ta-wei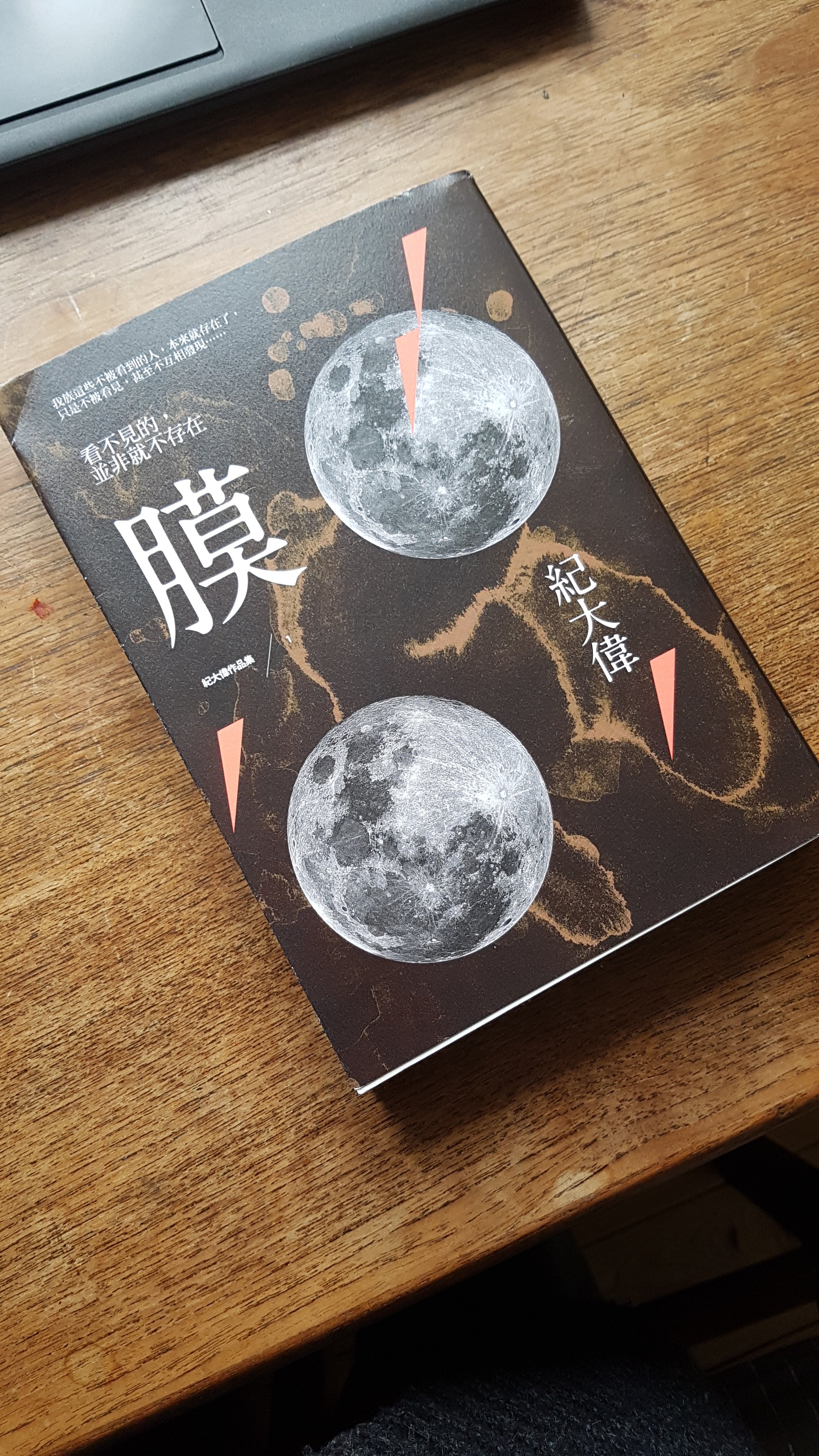 The emergence of Chinese language SF in the early twentieth century was closely intertwined with translation to the extent that "[w]orks labelled kehuan xiaoshuo [SF] initially included translations and creative adaptations of English works, often based on Japanese translations[.]"[3] In this paper I am inspired by this entanglement of literary creation and translation, epitomised by Lu Xun's processual approach of "hard translation" (硬译).[4]
Taking my own translation of Taiwanese author Chi Ta-wei's 紀大偉 sub-sea SF-novel The Membranes (膜)[5] into Danish as my case study, I pursue a strategy of "soft translation" where Lu Xun's "brutal penetration into the unfamiliar" and forceful "chewing" over of the text[6] is replaced by linguistic exchanges seeping through the porous membrane of the text as it enters and is entered by the translator and tasted by the supple tongues of multiple languages. Inspired by Chi's novel, I use the image of the membrane to look at the fluidity of boundaries between genders, bodies, and languages that the translation of this underwater tale entails. Finally, I borrow feminist scholar Astrida Neimanis' posthumanist conceptualisation of a planetary "hydrocommons of wet relations"[7] to situate my own translation within a planetary commons of translated literary relations.
Astrid Møller-Olsen
International Research Fellow, Lund/Stavanger/Oxford Universities
---
[1] Isaacson, Nathaniel (2017): Celestial Empire: The Emergence of Chinese Science Fiction. Wesleyan University Press: 8.
[2] Li, Hua (2021): "7 Fledgling Media Convergence: PRC SF from Print to Electronic Media." Chinese Science Fiction during the Post-Mao Cultural Thaw. University of Toronto Press: 134-164.
[3] Isaacson, Nathaniel (2017): Celestial Empire: The Emergence of Chinese Science Fiction. Middleton, CT: Wesleyan University Press: 8.
[4] Wang, Pu (2013): "The Promethean translator and cannibalistic pains: Lu Xun's 'hard translation' as a political allegory." Translation Studies, 6:3, 324-338.
[5] Chi, Ta-wei 紀大偉 (2011/1995): Mo 膜 [Membranes]. Taipei: Linking Publishing. Translated into English as The Membranes: A Novel by Ari Larissa Heinrich for Columbia University Press, 2021.
[6] Wang, 321.
[7] Neimanis, Astrida (2016): Bodies of Water: Posthuman Feminist Phenomenology. London: Bloomsbury Academic.